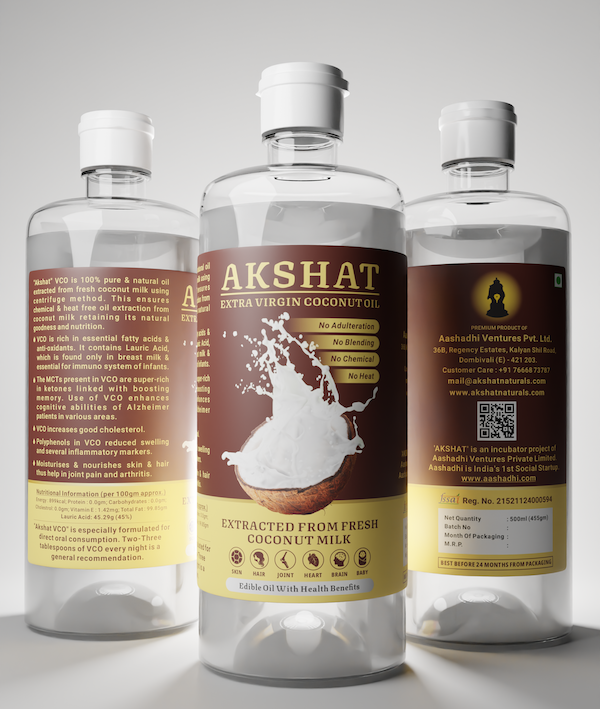 "Akshat" VCO (virgin coconut oil) is 100% pure & natural oil extracted from fresh coconut milk using centrifuge method. This ensures chemical & heat free oil extraction from coconut milk retaining it's natural goodness and nutrition.
Contains Lauric Acid, which is otherwise found only in breast milk & essential for immuno system of infants.
Rich in essential fatty acids & anti-oxidants.
Contains MCTs that are super-rich in ketones linked with boosting memory.
Increases good cholesterol & decreases bad cholesterol.
Enhances cognitive abilities of Alzheimer patients in language and orientation areas.
Moisturises & nourishes skin & hair.
Polyphenols present in VCO reduced swelling and several inflammatory markers.
"Akshat VCO" is especially formulated for direct oral consumption. 2 to 3 tablespoon of VCO every night is a general recommendation.
Click here to buy exportable quality "Akshat VCO" online.
Coconut milk is considered as a great natural alternative to cow's milk and is very promising to deficits like lactose and gluten found worldwide. The "lauric acid" found in abundance in this milk is a miracle of nature and is found only in breast milk. "Lauric acid" plays a key role in the development of the immune system and bone marrow of infants.
The best quality VCO is made from coconut milk only. When coconut milk is revolved at speeds above 10000 RPM, the bonds of oil in the water are broken and you get 100% pure and natural oil. There is no chemical process and no rise in temperature as well. This is technically most sound and internationally recognized method for virgin oil extraction. Natural properties of coconut milk can be expected from pure VCO extracted using this centrifuge method. This leads to excellent quality, export grade VCO. It is considered to be "the best medicinal oil" in nature due to its extremely light appearance and deep penetration ability into the skin.